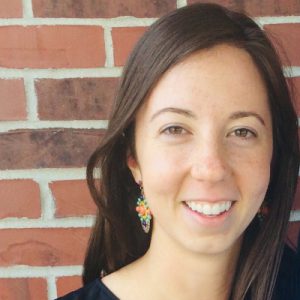 Kelly's Preferred Method of Donation: Venmo
Kelly wandered into her first yoga class in 2013 looking to relieve some stress from her first 'real world' job, teaching middle school math. With shaky arms in every downdog and a lot of thoughts like 'What am I supposed to do? The instructor wants me to try that? No way!' in her first class, she left feeling refreshed and a bit lighter. That feeling kept her coming back.
As she began to practice more, Kelly fell in love with the physical aspect of yoga. From strong and sweaty flows to gentle classes, Kelly enjoyed that she could vary her practice to meet her mental and physical needs.
In the fall of 2018, she signed up for a 200 hour Vinyasa Teacher Training, looking to deepen her own personal practice. Her teachers, Erica Merrill and Stacy Levy, helped her connect the physical yoga to the spiritual side of yoga. Throughout the training and beyond, she looks for ways to take her yoga off the mat; turning yoga into a lifelong daily practice. She is now a 200 hour RYT (registered yoga teacher) with Yoga Alliance.
Today, Kelly is a 1st grade teacher by day and a yoga instructor after school hours. She finds great joy in sharing the magic of yoga with all her students. Taking a beginners curiosity to teaching each class, Kelly strives to explore new sensations and have her students find their edge.