As we all become increasingly aware of the detrimental effects that our actions as consumers have on the environment we are all seeking greener substitutes in our daily practices. For many of us, the environmental issues associated with the over-use of single-use plastics, the growing issues surrounding a disposable society, and the reliance on limited natural resources seems overwhelming. But it doesn't need to be. Our personal choices in our daily lives matter. While going to a zero-waste kitchen may be too challenging and not practical, simple swaps and behavioral changes are more achievable over time. It is with these small actions that can create great change. And now with a growing demand for greener products is it far easier to make sustainable choices that not only support our natural environment but also prove far more beneficial to our health and wellbeing as well. 
One of the easiest areas in the home to make a change is in the kitchen. Often the heart and soul of any home, this space is the biggest creator of household waste, as well as an area where we can come into close contact with harmful chemicals. So, let's take a look at the top 6 simple swaps you can have a more sustainable kitchen support greener choices in your home. 
1. Reuse take-out containers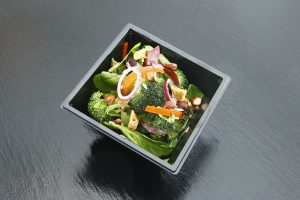 We all have them, don't we? That accumulating pile of take-out containers or simply the guilt of seeing them after ordering. While we wish more restaurants used sustainable to-go containers, we are often left with a stack of plastic waste after one family meal.  Many of these single-use plastic containers don't even get recycled…….. BUT they are very easy to re-use around the home. They make great storage containers for household bits and pieces in the pantry and can also be used for left-over meals, meal prep, and re-used for collecting new takeout. 
Whilst these containers claim to be single-use, they are often rated to last at least 5-year with good care. The properties within these containers will likely last well after our lifetime so, we might as well make the most of them.  And the best thing about these reusable products is the price point…they are FREE!
2. Ditch the Ziploc Bags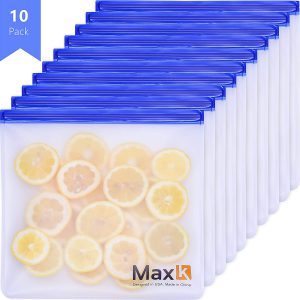 Plastic bags are hardly ever recycled properly. A simple swap from single-use plastics is to choose long-lasting, durable and re-useable food storage options like these Max K's Reusable Ziploc Bags. By using this alternative to Ziploc bags, you can expect to save on average 3,000 plastic bags per year. 
Instead of using Ziplocs once to store your leftovers, lunches, or meal planning items, for one single-use by reusing these sturdy bags, you prevent more plastic from going into our landfills. These flat sustainable food containers are pouches are made from high-quality food-grade PEVA, without any harmful chemicals such as BPA's or phthalates that have been known to leech out of traditional Ziploc bags. 
Like any reusable, these do require washing after use and hand washing is advised. Our tip for drying is to place the opening over a cup to allow adequate airflow for drying, limiting any bad smells. 
Also, note whilst these pouches have near limitless uses and are also perfect for travel some reviews advise that placing hot items straight into the bag can damage or reduce their longevity.  
3. Skip the paper napkins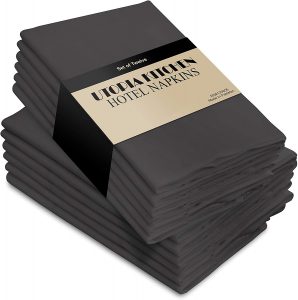 We switched from paper napkins to cloth napkins about 2 years ago and have not looked back. While only slightly more expensive to get started, the cloth napkins have lasted for two years with no problems and no additional purchases of disposable ones.  After finishing up our paper napkins, we bought two sets of some basic cloth napkins, enough to last our household of two for almost two weeks.
Pro-tip: After a while, we did get an extra set for guests that we keep a little nicer.
4. Trade out your plastic garbage bags for plant-based bags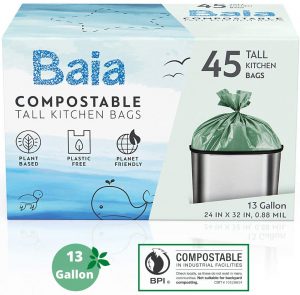 There is nothing worse than doing your best to recycle and reduce your waste than having to use a plastic garbage bag for your garbage. With the growing array of compostable garbage bags on the market these days now you don't have to. We have tried and tested quite a few of these styles of bags with mixed reviews but Baia Compostable Bags are certainly one of our favorites. Not only is it Certified compostable but they are far stronger and much better suited to regular size household bins than the similar liners we have used in the past.
This is an all women-owned small business who stand behind their products, and offer a 100% satisfaction money-back guarantee if you are not totally happy with your purchase. At a price point of $15.99 for 45, this is a plastic alternative you can feel good about buying. 
5. Alternatives to Wax Paper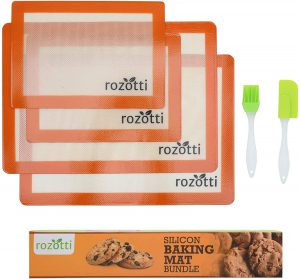 Waxed paper is not compostable and not recyclable, but cooking straight on your baking trays can be messy and also expose you to harmful coatings applied to your baking trays. Our best green solution will not only reduce your waste but will also provide a safe and healthy alternative for food preparations. These Rozotti silicone baking mats are perfect any home baking requirements, made from food-grade silicone, they are microwave, oven, freezer, and dishwasher safe. These mats provide an excellent platform for cooking all your favorite foods and the best part is they don't even require any oils, fats, lards, or butter for non-stick cooking. 
6. Concentrated cleaners & Glass Spray Bottles 

Cleaning products are something we give very little thought to, but just think of the exposure surface spay has to our families. This little green beauty has been a gamechanger in our household. The Mrs. Meyer's Clean Day Multi-Surface Cleaner Concentrate is inspired by plant-derived ingredients such as basil, lavender, lemon verbena, geranium, and honeysuckle. No joke, this cleaner has lasted for almost two years in my household. That's two years of not buying additional plastic bottles and harsh chemicals. (I'm crossing my fingers that at some point they use cardboard packaging for even more impact). 
It's safe to use on all household surfaces including benchtops, stovetops, floors, tiles, and glass and without the inclusion of any harmful chemicals means your family will enjoy a clean and sanitized environment without being exposed to anything hazardous. 
And we find it super handy to have a few of these Glass Spray bottles filled with the solution on hand to use in the different areas of the house. 
7. Alternatives to Foil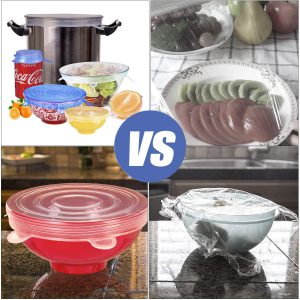 To take it a step further in your kitchen to 'go green' why not try a pack of Longzon Silicon stretch covers. These covers will replace foil, plastic wrap, and multiple Tupperware containers, making any bowl into an instant air-tight container. Never again will you need to hunt around the cupboard for lids to your Tupperware containers, these silicone covers stretch to fit almost any bowl, glass, pot or even open piece of fruit.  
Their customer reviews highlight their multi-purpose capabilities, as well as being super durable, easily cared for (being dishwasher and microwave safe), and have saved so much from not having to buy rolls of foil and plastic wrap ever again. This 14-piece set is one of our most used green kitchen essentials, and at $15.99 it is well worth the investment. 
8. Skip the paper towel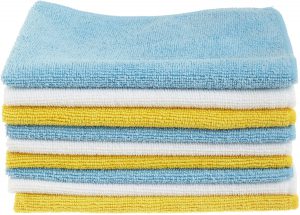 Why try to limit yourself with just eco-friendly paper towels when it's a lot cheaper and just as easy to almost ditch them all together? I'll be honest, we still keep a few rolls of paper towels in case of emergency (aka. pet accidents). However, since switching over to reusable rags, we barely touch them. We got a multi-colored set to use some in the kitchen, bathroom, and general cleaning. Prior to making an active effort to use these, we would buy those huge cumbersome packs of paper towels every couple of months. Now we use a three-pack– maybe once a year.
Sometimes the idea of going green can be challenging. There is so much that we can all do. Hopefully, by making these little swaps it can start moving towards a greener lifestyle one step at a time.